10 Fun Things To Do For Halloween


My husband and I are super into Halloween. We ALL dress up (as in adults too) and I normally sew all our costumes. We did Beauty and the Beast last year. But this year Halloween and my 3rd child's due date are lining up too close for comfort and I've had to scale things back.  I really hope we make it through our list of 10 fun things to do for Halloween!
 
#1
Everyone can dress up.  This year my husband is going to dress up in one of his favorites, Dr. Evil from Austin Powers. We ordered an Iron Man costume for my eldest daughter. And for my youngest daughter we decided to reuse her costume I made her for last year and she'll be Belle again.
#2
You don't have to spend a lot of money to decorate.  You make your own decorations or spend a few bucks at the dollar store.  (FYI This picture is super old, as in that baby is now 6!)   Here are some free coloring pages so your kiddos can help decorate. halloween coloring page 1  halloween coloring page 2
 # 3
We make up silly games. The library has TONS of books with easy crafts and activities and unless you're incapable of returning things on time (like we are) it'll be free!
I tried to make bobbing for apples more sanitary… note to self… use stronger string next time!

#4
Visit your local Pumpkin Farm.  This is one of the kids' favorites.  There are typically hay rides, corn mazes, and yummy fall food!
#5
See if your Zoo does anything fun for Halloween.  We are seriously hooked on the Spooky Zoo event. We went last year for the first time and the quality was super high. Our zoo gives a discount if you have a membership, and it gives another discount for purchasing your tickets in advance.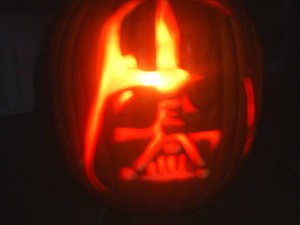 #6
Carve Pumpkins.  Since our kids are so young we don't let them use the knives. They draw their designs on paper and scoop out all the guts. Then Daddy carves the pumpkins. Daddy also carves his own pumpkin every year. This is Darth Vadar from Star Wars… can you tell?
#7
We watch TONS of Halloween movies. Here's a list of our favorites. Halloween Movie List  We also check out scads of Halloween picture books from the library.  Just make sure they aren't too scary for your little guys!
#8
We bake any recipe we can with pumpkins, salt and dry the seeds, and use gross amounts of cream cheese and black and orange food coloring.
#9
Go Trick or Treating.  Make sure to be safe and have flashlights and hold those hands!
#10
Town Square events.  Every year around Halloween there is this amazing town wide event with inflatable bouncers, live music, craft and food sales.  See if your town does something fun too!
As you can see, this is our favorite holiday! Does anyone have any fun suggestions to add to my list of 10 fun things to do for Halloween? We're always looking for something new to try!