White Chocolate Frozen Coffee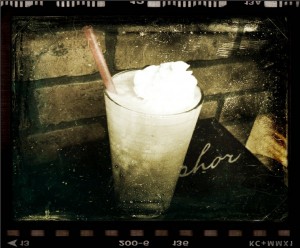 I always serve this frothy blended drink with dessert at dinner parties. You can blend an entire pitcher of frozen coffee for less than half the price of one drink at Starbucks. Great to help start your morning or an afternoon pick me up. I'm not a coffee drinker, but I perfected this recipe for my husband and friends. They swear it's their favorite and I'm frequently asked for this recipe. Don't like white chocolate no problem, just substitute 3 tablespoons of chocolate syrup instead. Use the money you save to blend a little extra to share with friends.
Prep Time: 5 minutes
Yields: 16 oz
Ingredients:
1 cup milk (your choice)
1 cup ice
3 tablespoons white chocolate chips
1 teaspoon instant coffee
1 teaspoon vanilla extract
1 teaspoon sugar or sweetner (opt)
Directions:
1. Place all ingredients into blender pitcher.
2. Blend on High for 15-30 seconds or desired consistency
3. Serve with dollop of whip cream (opt)
Calories: 150     Total Fat(g): 4.81     Saturated Fat(g): 3.07     Sugar(g) 17     Protein(g): 8.16     Calcium(mg): 294