Peanut Butter Pie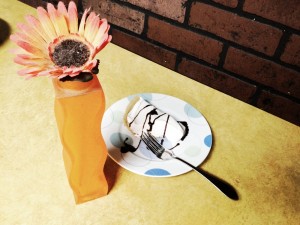 Creamy peanut butter mixed with cream cheese, I ask you does it get any better? This is honestly one of the simplest yet tastiest desserts.  I got this recipe for peanut butter pie years ago from my Aunt Melda and have served it to more guests than I can count. If you have a peanut allergy this is obviously not the dessert for you. But, if you have a fetish for peanut butter like I do then I suggest you give this luscious dessert a try. I recommend serving it with freshly brewed tea or white chocolate frozen coffee. Don't let them know you can whip this up in a flash. It's pie, take credit for all your hard work.
Prep Time: 15 minutes
Ready In: 1 hour
Yields: 1 Pie
Ingredients:
4 oz. peanut butter
4 oz. cream cheese (softened)
1 cup powdered sugar
2 TBS milk
1 graham cracker crust (store bought)
4 oz. cool whip or homemade whipped cream
Directions:
1. With a hand blender combine peanut butter and cream cheese in mixing bowl.
2. Add milk and powdered sugar. Blend til light and fluffy.
3. Spread peanut butter mixture into graham cracker crust.
4.Top with cool whip.
I like to use a store bought shell because it's easy and I'm usually in a hurry. If you have a favorite graham cracker crust recipe then please share. When I'm feeling extra deccidant I like to drizzle some chocolate syrup on each slice. Lastly, why make one pie when you can make two. It's easier to use the entire container of cool whip and cream cheese. Plus you can hide the second pie all for yourself, but you didn't hear that from me.
Calories: 140     Total Fat(g): 9.5     Saturated Fat(g): 2.75     Sugar(g): 4.5     Protein(g):4.5     Calcium(mg):25                              *Nutrient information per serving based on 8 slices per pie