How to Get Tomato Stain Out of PB Curtains
So on Mother's Day Eve we sat down for dinner.
Spaghetti.
Red sauce.
Very RED sauce.
My sweet husband did not want my daughter to get the sauce on the area rug so he moved her away. Near the window to be exact. Bless his heart…he had great intentions. Who knew that she would take her tomato sauce hands and decide to grab the curtains. The beautiful cotton-linen Pottery Barn curtains that I bought on super sale a few years ago. We both saw her before it was too late. My mouth uddered a shrill, "Ahhhhhh!" My husband shocked shouted, "Noooooo!" and ran over to detach her small red hand from the once tan but now red curtains.
The damage was done.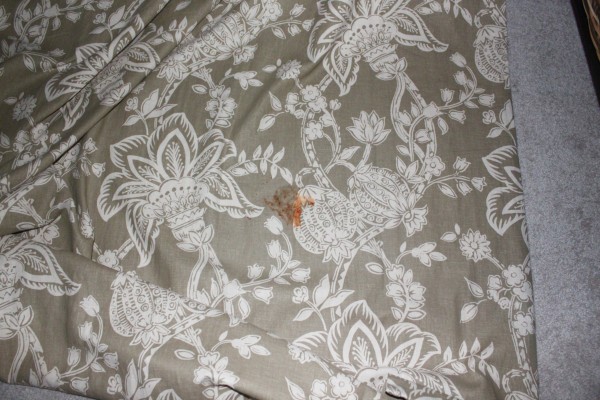 Panicking I ran to my trusty friend, Googly Bear…..good ole Google. Quickly I scanned 1st if I could wash the curtains. Reading that washing the cotton-linen curtains may result in a 7-inch shrinkage, I quickly moved to removing the stain. One of the the 1st results I came to was this video: http://video.about.com/laundry/Remove-Tomato-Sauce-Stains.htm
The host suggested first sprinkling baby powder without any additives to absorb any oils. There wasn't any plain baby powder in my house so I skipped this step crossing my fingers that this would be o.k. Next their suggestion was to pour boiling water over the stain. That is all. Hmmmm…sounded too good to be true. No stain sprays, solutions, etc. ?
I decided to document my attempt to get the stain out thinking it would probably be a flop.
What do you know….not a flop. So, not to leave you hanging, I will tell you what I did next. I ended up pouring three kettles of boiling water total on the stain. The curtains dried for a day or so and you can hardly tell there is a stain. Only I would notice a slight discoloration. Lesson:  Never underestimate the cleaning power of water. And of course, never put your daughter near curtains while eating.  Now to decide to hand wash the curtains, take them to the cleaners, or just hang them back up as is. Below is a after picture. Sorry about the yellowish tint….it was taken in different lighting.