Baby Trend Double Sit N Stand Stroller Review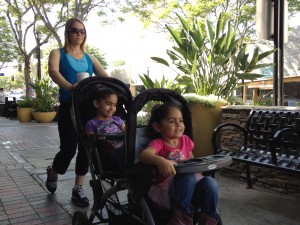 When I knew that I was going to be bringing home two little toddlers I immediately set out to do research on which stroller to buy. I hadn't owned a stroller in over a decade and couldn't believe how much things had changed. To be honest the amount of options was overwhelming. Armed with the internet I let my fingers do the walking and read a plethora of reviews. I quickly saw that no two moms agreed on which stroller was best and no one had my specific situation. (I don't have to explain that most moms start out with infants).
Armed with the knowledge of which strollers I thought would work best for me I set out to different stores to give them a "test drive". I weighed down several different models with my purse and whatever other items I could find. I knew that I needed to be able to push the combined weight of the toddlers so the more lightweight the better. Again, I didn't get to build up to this weight starting with infants. After too much research both in person and online I settled on the Baby Trend Double Sit N Stand stroller in the Green Tea color. I wanted to set the stage for what is now going to be my review after owning this stroller for 1 year.
Overall I have been happy with my stroller purchase and I promise you that I have put the stroller to the ultimate test.
PROS
My toddlers have spilled snacks and juice boxes on the trays and seats repeatedly, but they clean up nice.
I've opened and closed the stroller a gazillion times and each time it does so with ease.
I've shown numerous babysitters how to operate the stroller and they've all complimented on how simple it is to use.
I can lift it by myself to put in the back of my minivan and it can stand upright for more cargo space in the trunk.
 CONS
I've broken several nails opening the tray to let my child out of the stroller. The latch is a bit tricky.
The wheel lock is difficult to unlock when wearing sandals.
The backseat lays down easily, but is harder to put upright with the pulley clamp system.
The basket underneath is difficult to get to with the main entry point in-between the seats.
The wheels are looking very worn after just one year of use.
Ultimately what I learned was that no one stroller fits all, but there is one out there that will work for you. We're getting ready to take the back chair off of the stroller so our five year old no longer has to be strapped in. A cool feature of the Sit N Stand allowing your toddler to jump in and out. The combined weight of the girls is getting more than I can push and I'm beginning to notice less outings with the stroller which is sad. Not starting out as babies the window of stroller walks is even shorter than I had hoped. Still, we have photos and memories of going on walks with Mommy and maybe I'll hold onto the stroller to walk my grandchildren with someday.
*These opinions are my own. I was not paid to write this review for Baby Trend Double Sit N Stand Stroller.