How to make reusable baby wipes from old towels
I'm going to show you how to make reusable baby wipes from old towels today.  I'm getting dangerously close to having my third baby… and short of a miracle we aren't expecting any increase in my husband's salary.  This means we have to pinch every penny that we can.  With my first two kiddos I'd done a LITTLE cloth diapering.  If we ran out of disposable diapers before the budget allowed for more to be purchased we'd have a few days of only cloth diapers… but we weren't super consistent.
With this baby we still have the costs of raising the other two kids and we don't have any more money.  Which means we won't be buying a lot of disposable diapers and wipes this time around!  I had a container's worth of homemade baby wipes that I made with my second child but that won't be enough if that's my sole method for wiping down the baby.  So I'm making more.  This is actually a very easy project.  Even an amateur sewer should be able to tackle this!   If you want the cheapest option, you can use these wipes with a little water, just don't try to store for long periods of time that way because it will get moldy!  Stay tuned for my next posting "How to make your own wet wipes solution" which will give you a good idea of how to keep these wipes wet without chemicals or molding!
Cost Comparison
1 disposable wipe = $0.03
Homemade wipe=free
If we estimated 8 diaper changes per day
I always use more than 1 wipe per diaper change… but I'll keep my estimates low:
10 wipes per day = $0.30
70 wipes per week $2.10
303 wipes per month $9.10
3640 wipes per year $109.2
It may not seem like you're saving all that much… until you realize that within 1 years' time you're saving a minimum of $100 dollars.  If your baby has lots of messy diapers… you'll save even more.  I also found that the homemade wipes were more efficient and better at cleaning up a messy diaper.  And BONUS- you get to feel like you're saving the world (even if all you cared about was your pocket book)!
If you want to know how to make reusable baby wipes you will need:
some old towels
scissors
sewing machine or serger
thread
pins
an empty plastic wipes container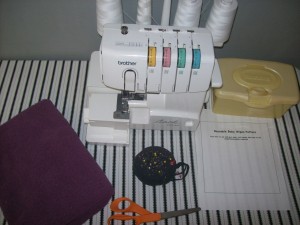 Step 1
Print the free sewing pattern for reusable baby wipes and then cut it out.  Feel free to use this pattern for yourself or whoever… just make sure you always link it back to modernhomemakers.com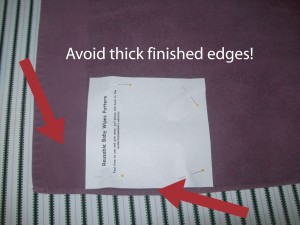 Step 2
Lay your pattern on top of an old towel and pin it.  Try to avoid any obvious holes.  Also try not to use the super thick finished edges (your sewing machine won't like you if you try to make it sew over something that thick)!  Cut out the fabric around the pattern piece.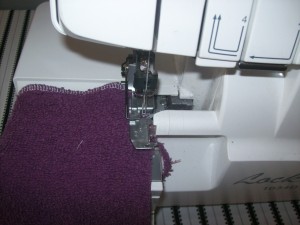 Step 3
Remove pins and serge around all four sides.  I like to serge around twice (but I'm anal retentive and it's not really necessary).  If you don't have a serger I'd recommend that you zig-zag all the way around twice.  You'll notice I'm using white serger thread…on a purple towel.  Feel free to match your colors…I only change serger threads for clothing projects…too much work!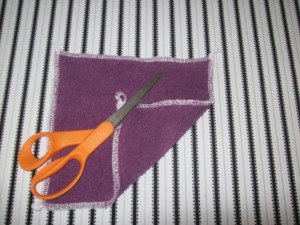 Step 4
Trim any extra threads.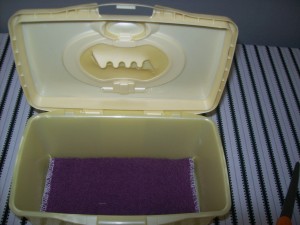 Step 5
Fold in half and place in your used wipes container.  If your wipes container has a super small opening you may want to enlarge it.  Be careful and definitely don't use your fabric scissors!  I've got my husband so afraid of destroying my fabric scissors that he either uses the kids scissors or asks me first.  He knows I'll replace them with a rotary cutter next time…and then I'll need that special cutting mat… you get the idea!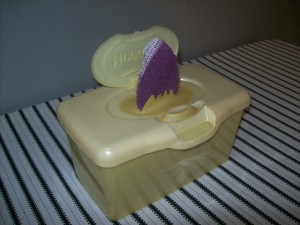 Obviously you'll be needing more than 1 wet wipe so keep on sewing until you've filled at least 1 wipes container.  I'm going to try to fill 3+ because my house has 3 levels and there's nothing worse than starting a diaper change and realizing that your wipes aren't where they're supposed to be.  I love to use wipes for fast wipe downs after meals and making my kids wipe down baseboard trim.  Now that you know how to make reusable baby wipes, enjoy your savings!  I'm sure you can figure out SOMETHING else to spend all that money on!  What would you spend your $100 dollars on?