Aunt Bea's Curry Delight


Everyone has a few staple "signature" meals they serve their family and guests. You know what I am talking about; those meals you can whip up in a hurry with items that commonly grace your pantry. You guessed it, one of mine is curry.  I fell in love with it growing up in Southeast Asia and learned how to make it 8ish years ago. Now curry is a regular on our menu.
My husband has been asking me the past few years to batch cook and freeze individual lunch portions of curry for him to take to work.  Even though I am always glad with the results AFTER I batch cook, getting to that point makes me anxious. The thought of making mass quantities makes me nervous. What if I get half way into it and don't have enough eggs. Did I already use the entire box of almond milk yesterday? Do I need to convert the measurements and times by ten? And not to mention, who is going to do all of the dishes??? The other night I decided to surprise him and do the unthinkable….make an insane amount of vegetable curry. The results: a joyful husband and a heck of a lot of curry. And HE surprised me when he did ALL of the dishes. Thanks, honey!
The great thing about curry is you can use up whatever vegetables you have in your fridge. For a protein you can add chicken, tofu, garbanzo beans, or kidney beans.  Each time it tastes a little different based on what vegetables you have on hand. Let me clarify, this particular curry is Indian curry not Thai curry (which has a more coconut lemon grass taste).
Aunt Bea's Curry (that's what my niece and nephews call me)
Start to Finish: 45 minutes
Serves 6 (or 1 if I am eating :))
1 or 2 medium yellow onions, diced
2 cloves of minced garlic
2 TB. Oil (EVOO, canola, coconut, whatever fits your fancy)
1 cup chopped tomatoes fresh, canned, or frozen
4-5 TB of Indian curry paste (My favorite is Patak's mild or medium curry paste
You can use more or less paste depending on how much curry flavor you like
2 -3 cups of chopped vegetables (squash, spinach, green beans, potatoes, broccoli, carrots, eggplant, whatever sounds good to you)
1 C. water
½ – 1 C. coconut milk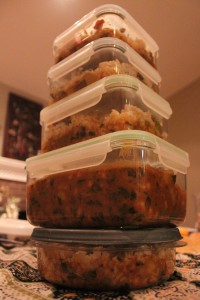 1. Steam or boil the harder (carrots, potatoes, broccoli, etc.) vegetables for approximately 15 minutes and set aside.
2. Heat oil in a large nonstick skillet or wok over medium heat.
3. Add onion and garlic. Cook 2 minutes, stirring constantly.
4. Stir in tomatoes, curry paste, and water.
5. Add steamed veggies along with other veggies. Stir coating all of the vegetables with curry.
6. Add coconut milk (I start with ½ cup, taste, and add more according to taste).
7. Reduce heat to medium-low, cover, and simmer for 15 minutes.
My family likes it with lots of sauce so many times I add or subtract items based on look and taste. This is generally how I cook, which is makes it hard to write down my recipes. One vegetable I usually always have in my curry is potatoes.Serve the curry with cooked brown or basmati rice and some naan. Naan is a south asian flatbread that kind of resembles pita bread. It is oh-so-delicious, especially with garlic and butter (or ghee). You can make it or buy it frozen at an asian food store or a market that carries international food. Trader Joe's carries yummy naan in their frozen section.As you can see I was wasn't kidding about the insane amount. We had generous helpings for dinner and then were able to store some for other dinners and lunches.