Making Money from Home, How to run a Successful Home Based Business – Book Review
Today we're featuring a Guest Post from my friend April.  Please go visit her at her blog:  New Creations!
But Enough from me, let's hear from April..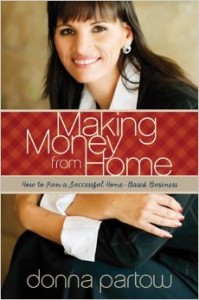 About a year ago I was on a search for ways to make money at home. It was during this time that I discovered Donna Partow's book Making Money from Home, How to run a Successful Home Based Business. This book details everything from setting up a home office, writing a business plan, choosing a line of business, legal issues, and marketing. If you've thought of making money from home, I really believe this book will guide you through the process.
Each chapter contains questions for review at the end. It is helpful to take time to answer these questions on paper as you go along. You will discover a lot about yourself and your potential business.
In the first section Donna discusses pillars for long-term success. These ten pillars set a foundation for your business and include things like choosing a business you enjoy, researching your intended line of business, self-discipline, and more.
In addition to these things, she gives you an overview of what a business plan looks like and how to write one. Included in the book are a Business Plan worksheet and a First Year Operating Budget sheet.
Now get ready for some fun and self-evaluation! The second section of the book discuses home-based business options. Donna talks about global flea markets (i.e., Ebay), direct sales and network marketing, Information products (special reports, e-books), and affiliate marketing. She includes a Third-Party Analysis to give to friends. The purpose of this sheet is to help you identify a line of business.
Next, and perhaps the most important part of her book discusses business basics. There are many legal and financial issues to consider and this part of the book touches on those issues. She lays out the steps necessary to set up your business. You'll learn about sole proprietorships, LLCs, trademark names, opening a business bank account, and more.
In this section she also talks about mastering self-management. Donna discusses organization and time management, both of which are essential to running your home-based business. In addition, she talks about setting goals and even delegation.
The fourth section details ways you can market your business. You'll read about starting a blog, social media, mailing lists, and SEO (search engine optimization). Experiment with her suggestions and find out which ways work best for your business.

The final section is important as Donna talks about putting family first. She discusses balancing your family needs with your business and having the support of your spouse.
In chapter 17, she instructs you to sit down with your husband and discuss your business idea with him. "Without his support, your business simply cannot succeed." If you have children, chapter 16 offers suggestions about balancing both your business and children's needs and even how to include your children in your business.
In conclusion, this book is a great resource for anyone (especially mom's) seeking to start a home-based business. Check it out of your local library first and see if the information in this book is as valuable to you as it has been to me. For more information, check out Donna's website at www.donnapartow.com.