Goodnight Tweetheart- Review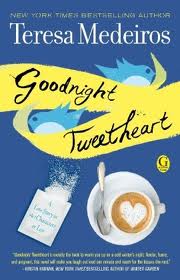 I just finished reading "Goodnight Tweetheart" by Teresa Medeiros, and yes it's a romance novel about Twitter. It features a cute little washed up writer who describes herself as semi agoraphobic. It's been years since her first bestselling novel was released and she's afraid she'll never finish her next book. Her life revolves around Starbucks and her two kitties until one day her agent sets up a Twitter account for her so she can connect with her few remaining fans and start promoting herself.
To start with she's a total cynic. But then someone takes her under their wing and starts to get her hooked. She starts to have feelings for this man she's never seen or heard. Is she falling in love with a guy on Twitter?
I'm not going to spoil anything for you. It's a cute book. Not her best, but still well worth the read. This is also a really short book, thanks largely in part to it being composed primarily in "tweets". If you want to read with a friend it even has some discussion questions in the back which could be fun. What's your favorite romantic story?