Get Kids To Eat Their Veggies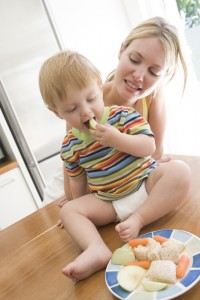 On a daily basis mothers are concerned with trying to get kids to eat their veggies. The problem is getting your kid to choose carrots over a cookie. When we as adults have a hard time making the right choice it's even more difficult to get your children on-board with healthy eating. Once again we have to lead our children by example.
My sister Joquena was fortunate to start her kids off healthy from birth. When solid foods were introduced she fed them a diet of raw fruits and veggies. Her kids are now in elementary school and will still go to the fridge, take out a squash and say "I want this for dinner." She has no problem getting her kids to eat their veggies. I haven't been so lucky. As an adoptive mom getting my kids to eat more veggies meant working backwards.
I started off by providing a raw fruit or vegetable at each meal. My kids know it doesn't matter if they like it or not, "no dessert till your veggies are gone." Still even with providing an option at every meal it doesn't meet the quota of the nutrients your child needs in a day. This is where it gets tricky and I get sneaky.
How To Get Kids To Eat Their Veggies
Make baked goods by adding vegetable purees or powders ala Jessica Seinfeld.
Add vegetable purees or powders to soups and sauces. (I make my own organic vegetable powders using my dehydrator and Vitamix)
Offer a dipping sauce. My kids love catsup with everything. Its gross, but it works.
Have your kids Drink their veggies.
This one is my favorite. There are a lot of veggie juice powders on the market. Most of them taste like you're drinking an old onion while mowing your yard. But I recently found some new products by Amazing Grass that I love and the kids love too. They taste great and best of all they're organic.
The Orange Dreamsicle tastes "amazing" with milk or soymilk. It seriously reminds me of the orange dreamsicles I used to eat as a kid. I like to mix the Chocolate SuperFood with chocolate protein powder, milk and ice in the Vitamix. The kids think they're getting "milkshakes" for dinner so everyone is happy. For my very picky kids I make sure to put the drink in a cup with a lid and colored straw so they can't see the color of what they're drinking. It works every time. It may taste like a popsicle, but it's still green.
Sometimes health can take a backseat to all the other parenting issues involved with raising your child. If you can work more veggie options into your day as a routine you have a better chance of helping your kids to get the nutrients they need. Have your child drink their veggies with at breakfast so you know you're helping them have the best start to their day and a healthy happy future.