Christmas Gift Idea for Kids
Happy December!! Can you believe that we are 23 days away from Christmas? This Christmas I am making some homemade presents for my kids. I have taken up sewing as a hobby. It has always been my dream to be able to sew items for our home and children. To accomplish this I needed a sewing machine. Well, checkity, check, check. My lovely husband bought me a great sewing machine this year. Thanks honey! Once I feel a bit more confident, I might graduate to sewing clothes for myself. Goodbye to the days of not buying pants because they have to be hemmed. I can now hem clothes with my sewing machine. Yippee!
I started simple and decided to make my son lounge pants made from superman material. Boy is he going to love lounging in these puppies! Since I am a newbie I forgot the amount of fabric needed so I have a lot left over. Why not make matching pants for my little girl. O.k. I still have more fabric…. why not sew a superman appliqué on shirts to match. Here are my son's pants in progress: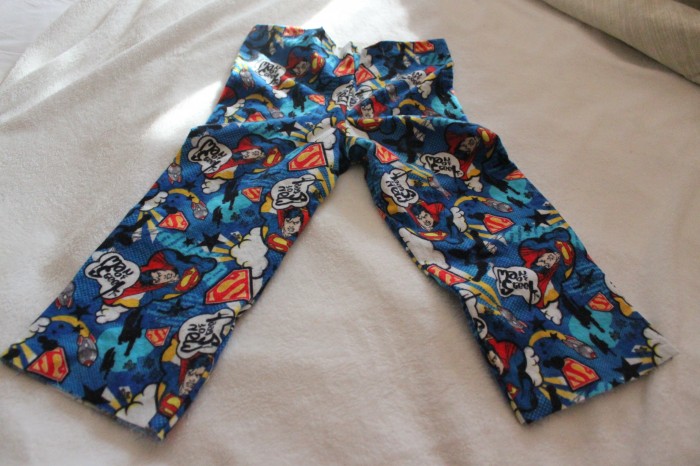 I started with the following tutorial. Head over to this site to follow the step by step instructions on how to make these. If I can do this, YOU can do this. Trust me! I have to give Joquena credit since she is the one that encouraged me to sew in the first place and helped me make my first pair of pants. As my father- in -law would say, "I am slow, but not fast."
Fabric stores are always having sales, so wait for a good sale to get fabric. Since I had a certain character fabric I was looking for I waited as long as I could and got it for 30% off; better than nothing. Many stores like Jo-Ann, Michaels, and Hobby-Lobby have weekly coupons for up to 40% off that you can use for one cut of fabric.
Once I am done with my creations I will post them. What type of homemade gifts are you working on?