I Don't Know How She Does It – Review
This weekend I dragged my husband to the theater for the latest SJP chick flick "I Don't Know How She Does It." I'm NOT actually a huge SJP (Sarah Jessica Parker) fan, but instead an Aline Brosh McKenna fan. She's the writer of the popcorn flick and just happens to currently be the highest paid female writer out here in Hollyweird. This year I went to hear her speak at a screenwriter panel and she was super smart, super sassy and rockin' a super sexy black leather jacket.
Aline has written a whole slew of movies I enjoy including her previous film "Morning Glory" with Rachel McAdams. I LOVE THIS MOVIE. I saw it three times in the theater. She also wrote the cute rom com "27 Dresses" with Katherine Heigl and the mega hit "The Devil Wears Prada" with Meryl Streep and Anne Hathaway. (to name a few) I like her work because she writes strong three dimensional female protagonists instead of Hollywood female stereotypes.
I really liked the concept of this film, but there's unfortunately not much to brag about the execution. It was cute, but not on the level of her other films. I'll say as a SAHM (not wearing my screenwriter hat) I wish that the story focused a little more time on the family side of her struggles, not just her career. For me it made the film feel unbalanced. Also, there wasn't enough focus on the issues in her marriage. (or maybe I was just secretly hoping for a little more Greg Kinnear screen time) 🙂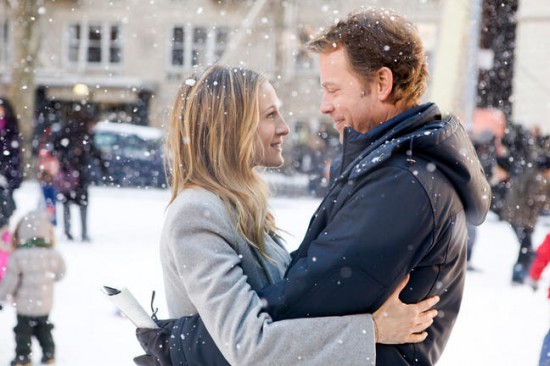 The question raised in this film is one that I deal with all the time. As moms we are constantly faced with opportunities that take us from our families. I have NOTHING against working moms. In fact, I dream of one day being one. I picture myself re-entering the workforce where I'm applauded daily for my efforts. (or maybe I'm just dreaming for a little applause around here these days… those lunches didn't make themselves people!)
I've turned down "dream jobs" more than once including "career makers." Why? Because for me, "I didn't adopt my kids not to raise them." Especially with older kid adoption there are more issues and insecurities that require even more time and attention. (and for me it's times 6) With my personality and drive it is a HUGE sacrifice for me to be a stay-at-home mom. So, I've found ways to still enjoy working while being a homemaker… a WAHM (work-at-home-mom).  Being a writer by trade makes it easier for sure to "work from home" except for that pesky little fact that it's NEVER quiet here.
Having six kids and working from home people often say "I Don't Know How She Does It" about me. I know that us moms are constantly weighed down by all the guilt we pile on ourselves. If we devote more time to work we feel we're slacking at home. If we spend time with our husbands we feel we're ignoring our kids. If we have a fun moment with our kids we feel we're being negligent on our chores. It's kind of no-win situation.
My advice, try to find balance with doing the things you love along with raising your family. We can't ignore ourselves as individuals. We have to try to find a little happiness that's just for us as we give the rest of who we are away to those who matter most. And for you moms who want to go to back work hold tight to the fact these kiddos won't be young forever. My mom was a SAHM who had a home business and didn't start her successful full time career until she was 50!
Bottom line, whether you're a working mom, SAHM or WAHM you will be able to relate to the main character of this film. This is a good flick to go see with your fellow moms especially if you go out for drinks after and gab about the juggling act that is motherhood.
For more info on the film visit howshedoesitmovie.com
MeLisa blogs about family life and more at adoptivelegacy.com.